LANZAROTE.
A WINTER PLAYGROUND IN THE CANARY ISLANDS.
Lanzarote is a favourite destination for Hang Glider pilots in the winter. The average temperature is around 20 degrees. The island has five flying sites which face various directions. The most famous site is Famara in the north of the island which has high cliffs which allow a ridge run of around 12k. The island can be very windy at times and in the four visits that I've made to the island, the average flying days are about 3.5 out of every week. The conditions can be deceptive and you can find that the wind is very light at the bottom of the hill and blowing a gale at the top. It can also be very rough, especially at Macher in the south of the island. XC flying is pretty much a no-go as much of the island is covered in very sharp rocks as a result of volcanic activity. Having said that though, some guys have actually flown some good distances here, one guy recently flew from Mala in the north east to Playa Blanca in the south west. You just have to be brave, foolhardy, or just downright good at XC flying to make sure you don't end up in the sharp lava that is abundant on this island.

There is also more dust and gravel here than any other place I've ever visited. Don't take a new wing here or you will regret it. The gravel can really chew up your leading edges.
Car Hire:
Getting around the island is easy as it's only around 50k by 20k and the roads are good. Cars can be hired with roof racks from 'Cabrera Medina' car rental at Arrecife airport. The average price of a small car is around £80 per week. Petrol is dirt cheap on the island. You will spend about £10 - £12 to fill your tank.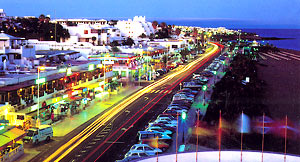 Puerto Del Carmen at night.
Plenty of good food and cheap beer.
Getting there:
Getting your glider to Lanzarote from the UK is not difficult. There are charter flights going out all the time. Don't tell them that you are taking a hang glider when you book the flight as most airlines will not take it because of insurance problems. You have to call it a 'windsurfer' and pay £30 (correct at feb, 2002) for a return ticket for it. Also, make sure that you have the paperwork to prove that you've paid for it's carriage otherwise you might find that it's not going on the plane. I'm sure they know they are not windsurfers but by calling it so, they avoid insurance claims against aviation equipment. It's all done on a nod and a wink. Also... make sure to short pack it and put padding around the tubing and noseplate. The baggage handlers are not too particular about being careful.
So, here is the site guide.
Click on the triangles to show the information for each site. You need to have javascript enabled as the guides are in pop up windows.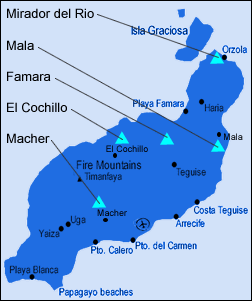 The cliffs at Famara, great for soaring.
John O'Neill at 1,000 ft over Lanzarote flying an Apco Santana with electric VG!!
John Launching a K2 at Famara
(sorry about the crap quality of the pic, it's from a video)
John landing at Mirador on a K4
This has got nothing to do with lanzarote but I thought it was a pretty good photo. It's a guy who's picked a very bad place to land somewhere in Africa. I don't know if he made it to the landrover.